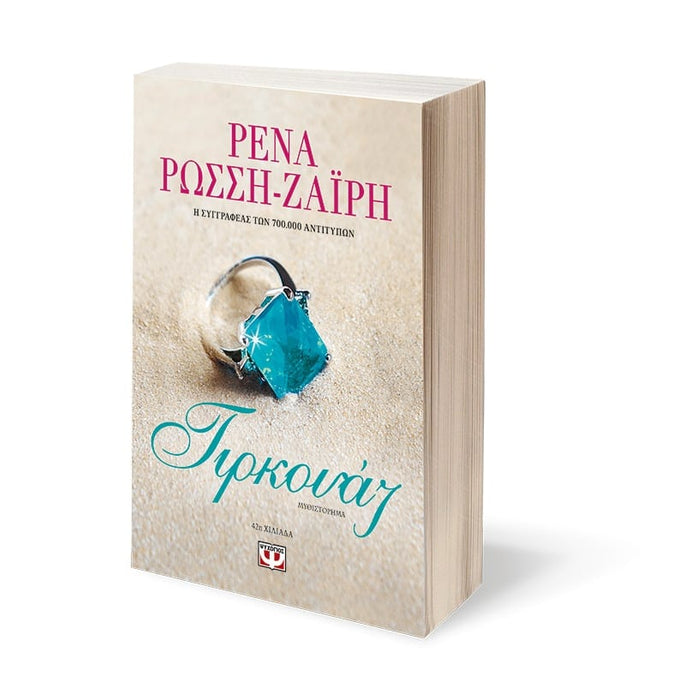 TURQUOISE - RENA ROSSI-ZAIRI / ΤΙΡΚΟΥΑΖ - ΡΕΝΑ ΡΩΣΣΗ-ΖΑΪΡΗ
Save

Liquid error (snippets/product-badge line 32): Computation results in '-Infinity'

%
There is white. There is black. And somewhere in between, there is turquoise. The ring that Stephanos chose to give to all three sisters. To ill-tempered Erato, to dynamic Klelia, and to fragile Maira, his girls. He had his way with women, Stephanos did. He made them feel beautiful, unique.
He married one of them.
He fell in love with another.
And the third… he raped.

Turquoise is a bright colour that symbolizes truth., and chastity. Turquoise is a dark colour that dives deep into the truths of the soul. For life always has two sides. For each story hides many sides and tales of the heart.
Υπάρχει το άσπρο. Υπάρχει το μαύρο. Κι ανάμεσά τους το τιρκουάζ. Το δαχτυλίδι που είχε επιλέξει ο Στέφανος να χαρίσει και στις τρεις αδελφές. Στη δύστροπη Ερατώ, στη δυναμική Κλέλια, στην ντελικάτη Μάιρα, τα κορίτσια του. Είχε τον τρόπο του με τις γυναίκες ο Στέφανος. Τις έκανε να νιώθουν όμορφα, να αισθάνονται μοναδικές.
Τη μία την παντρεύτηκε.
Την άλλη την ερωτεύτηκε.
Την τρίτη τη βίασε.

Το τιρκουάζ, ένα λαμπερό χρώμα που συμβολίζει την αλήθεια. Και την αγνότητα. Το τιρκουάζ, ένα σκοτεινό χρώμα που βουτάει σε αλήθειες ψυχής. Γιατί η ζωή έχει πάντα δύο όψεις. Γιατί κάθε ιστορία κρύβει πολλές πλευρές και βαθιά χτυποκάρδια. Άλλωστε, από το μεθύσι του έρωτα δεν είναι καμωμένη η ευτυχία;