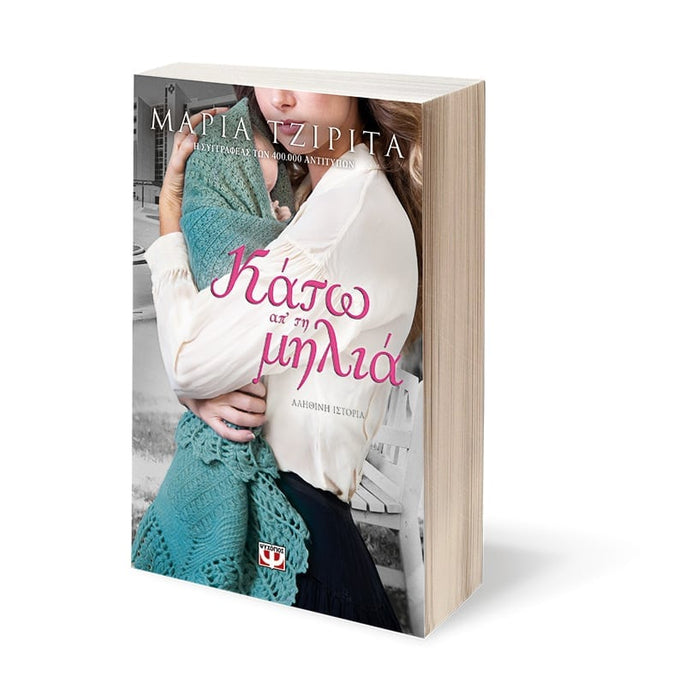 NOT FAR FROM THE APPLE TREE - MARIA TZIRITA / ΚΑΤΩ ΑΠ' ΤΗ ΜΗΛΙΑ - ΜΑΡΙΑ ΤΖΙΡΙΤΑ
Save

Liquid error (snippets/product-badge line 32): Computation results in '-Infinity'

%
The day Paola invites Naya, her niece, to her home so that she can unburden her soul to her, is the day that Pandora's box opens for her entire family. Everything she learns washes the young unsuspecting girl away like a tide and changes her life and everything she ever knew before forever. Secrets carefully hidden away for years come to light and shed darkness on Naya. It is now up to her to prove that the apple can fall far from the apple tree, to escape the past as well as the curse that has haunted her family for so many years…

A true story about three women from three different generations that can teach us that hope always exists and that we can escape our destinies and mold our lives into what we want and deserve.
Την ημέρα που η Πάολα κάλεσε στο σπίτι της την ανιψιά της τη Νάγια, για να της ανοίξει την καρδιά της, άνοιξε μαζί και το κουτί της Πανδώρας για ολόκληρη την οικογένειά τους. Όσα της αποκάλυψε, καθώς ξετύλιγε την ιστορία της ζωής της, παρέσυραν σαν άγριο κύμα την ανυποψίαστη κοπέλα κι άλλαξαν τη δική της ζωή για πάντα. Μυστικά καλά κρυμμένα για πολλά χρόνια ήρθαν στο φως, φέρνοντας όμως σκοτάδι στην ψυχή της Νάγιας. Πλέον θα είναι στο χέρι της να αποδείξει ότι το μήλο δεν πέφτει πάντοτε κάτω απ' τη μηλιά. Πόσο εύκολο είναι όμως κάτι τέτοιο; Πώς θα καταφέρει το νεαρό κορίτσι να γλιτώσει από το παρελθόν και από την κατάρα που κατατρύχει την οικογένειά της;

Η αληθινή ιστορία τριών γυναικών, από τρεις διαφορετικές γενιές, έρχεται να μας διδάξει με έναν συγκλονιστικό τρόπο πως πάντα υπάρχει ελπίδα να ξεφύγουμε από το πεπρωμένο μας και να φτιάξουμε τη ζωή μας όπως ακριβώς τη θέλουμε και μας αξίζει.