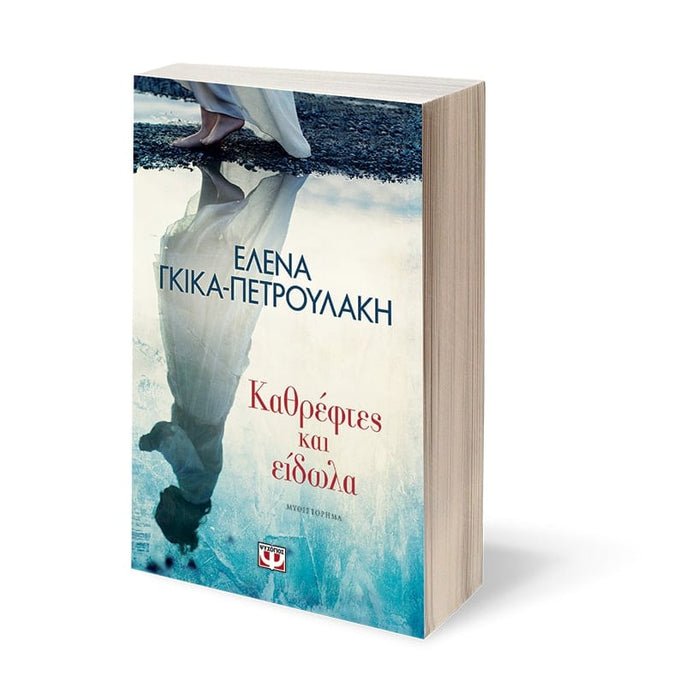 MIRRORS AND REFLECTIONS - ELENA GIKA-PETROULAKI / ΚΑΘΡΕΦΤΕΣ ΚΑΙ ΕΙΔΩΛΑ - ΕΛΕΝΑ ΓΚΙΚΑ-ΠΕΤΡΟΥΛΑΚΗ
Save

Liquid error (snippets/product-badge line 32): Computation results in '-Infinity'

%
Secrets, lies and unmentionable guilt. Crimes that seek their perpetrators. The ultimate sacrifice of a mother who seeks justice.

In her cell, Stella tells her story. She wanders through the neighborhoods of her impoverished childhood, the shady streets of her nightmarish teens, the university amphitheaters where she sharpened her mind and her soul, determined to give value and meaning to her existence, the law courts where she was promised a brilliant legal career, and the luxurious mansion of the Moralis family where she hoped to escape her fate indefinitely, to find love, warmth and peace.
Life, however, never remains unrequited. Her meeting with fate is unavoidable, and Stella is forced to choose her mirror and prove herself. She must look at her reflection and lay claim to her atonement and the hope that life has denied her.
Μυστικά, ψέματα και ανομολόγητες ενοχές. Εγκλήματα που αναζητούν επιτακτικά τους δράστες τους. Η υπέρτατη θυσία μιας μάνας που ζητά δικαίωση.
Μέσα από το κελί της η Στέλλα αφηγείται. Περιδιαβάζει στις φτωχογειτονιές της στερημένης παιδικής ηλικίας της∙ στους κακόφημους δρόμους της εφιαλτικής εφηβείας της∙ στα πανεπιστημιακά αμφιθέατρα όπου ακόνισε το μυαλό και την ψυχή της, αποφασισμένη να δώσει αξία και νόημα στην ύπαρξή της∙ στις δικαστικές αίθουσες όπου της έταξαν μια λαμπρή καριέρα δικηγόρου∙ στην πολυτελή έπαυλη της οικογένειας Μόραλη, όπου έλπιζε ότι θα δραπετεύσει οριστικά από τη μοίρα της, ότι θα βρει τον έρωτα, τη θαλπωρή και τη γαλήνη.
Όμως, η ζωή δε μένει ποτέ απλήρωτη. Η συνάντηση με το πεπρωμένο είναι αναπόδραστη. Και η Στέλλα πρέπει να επιλέξει τον καθρέφτη της και να αποδείξει από τι είναι φτιαγμένη. Κι ύστερα να κοιτάξει το είδωλό της κατάματα, διεκδικώντας την εξιλέωση και την ελπίδα που η ζωή τής αρνήθηκε.