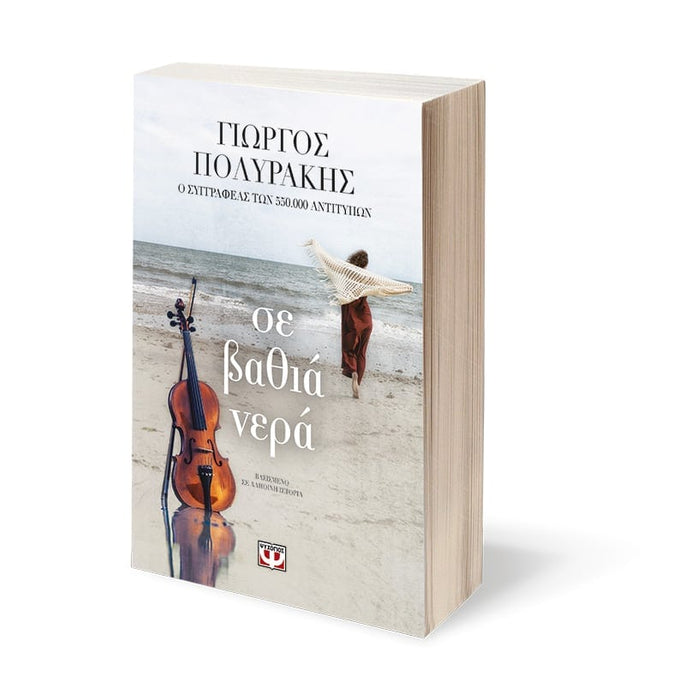 IN DEEP WATER - YORGHOS POLYRAKIS / ΣΕ ΒΑΘΙΑ ΝΕΡΑ - ΓΙΩΡΓΟΣ ΠΟΛΥΡΑΚΗΣ
Save

Liquid error (snippets/product-badge line 32): Computation results in '-Infinity'

%
Marina grows up in the village of Sfakia in Crete. She is the sole daughter of a family struggling to survive. She is tenacious and her love for the violin gives her the courage to pursue her dreams. When her eldest brother, who has immigrated to Australia, invites her to join him, she has no other choice but to leave her homeland behind and travel into the unknown, a journey that will mark her forever.
Marina's story, based on true events, and in particular on a scandal regarding illegal adoptions that came to light some years ago in Australia, where thousands of victims were found to have had their children taken away from them and given for adoption shortly after their birth. The Victorian Premier, Ted Baillieu, was forced to apologise to the victims while senator Claire Moore said that "now we can talk about an atrocious period in our history, which lasted for over thirty years, and which we can no longer pretend never happened".
Η Μαρίνα μεγαλώνει στα Σφακιά, το μοναδικό κορίτσι μιας οικογένειας που παλεύει να επιβιώσει. Έχει πείσμα και η αγάπη της για το βιολί τής δίνει θάρρος να κυνηγήσει τα όνειρά της. Όταν ο μεγαλύτερος αδελφός της, που έχει μεταναστεύσει στην Αυστραλία, την προσκαλεί κοντά του, δεν έχει άλλη επιλογή παρά να αφήσει πίσω την πατρίδα της ξεκινώντας ένα ταξίδι στο άγνωστο. Ένα ταξίδι που θα εξελιχθεί σε γολγοθά, σημαδεύοντάς τη για πάντα.

Η ιστορία της Μαρίνας βασίζεται σε αληθινά γεγονότα, και συγκεκριμένα στο σκάνδαλο των παράνομων υιοθεσιών που αποκαλύφθηκε πριν από κάποια χρόνια στην Αυστραλία, με θύματα χιλιάδες γυναίκες των οποίων τα παιδιά απάχθηκαν και δόθηκαν για υιοθεσία αμέσως μετά τη γέννησή τους. Ο πρωθυπουργός της Βικτόρια, Τεντ Μπέιλιου, αναγκάστηκε να ζητήσει συγγνώμη από τα θύματα, ενώ η γερουσιαστής Κλερ Μουρ είπε ότι «τώρα μπορούμε να μιλήσουμε για μια φρικιαστική περίοδο της ιστορίας μας, που κράτησε πάνω από τρεις δεκαετίες, και να μην προσποιούμαστε πλέον ότι δε συνέβη».